FreeBitcoin Tutorial and Strategy
Company data
CoinPayU is a PTC platform that allows its users to earn small fractions of Bitcoin for free by viewing ads. Launched at the beginning of 2019, in the last months it has had spectacular growth and already has more than 92,000 active users weekly.
One of the most important aspects of this PTC is the large number of ads available for viewing, which makes it much easier to reach the minimum payment when compared to other similar pages. In addition, it has other ways to earn money such as tasks, contests and even a marketplace for buying and selling referrals.
It is an opportunity to get thousands of satoshis in a simple way and for free.
Coinpayu Main Features
Evaluation: Excellent 5-Stars
Language: English,Russian,Spanish
Available Countries: All over the world.
Payment: We will be paid by bitcoins in our wallets and Payeer:
–Conditions for requesting payment: Minimum 10000 satoshis.
–Memberships: Yes.
-Referrals: 1 level: Referral commissions will depend on our membership ranging from 10% to 50%.
-Referral market: Yes. You can buy and sell referrals.
–Points: The site has a point system that is obtained by being active on the site and that allows us to obtain discounts, instant payments, and the possibility of participating in contests.
-Contests: Yes
• To register in Coinpayu do it here >>>
How to Register in CoinPayU
Registration at CoinPayU is valid for all countries and very easy. In addition, as happens in all pages based on cryptocurrencies, no personal data has to be entered at any time, so your privacy and anonymity are guaranteed.
To register, click on "Register" or "Join Free" and complete the following form.
Immediately, you will receive an email with a code to activate your account. Put it in the corresponding box. If you don't receive it after a few seconds, check your spam folder.
Win Free Satoshis
The options for winning satoshis in Coinpayu are all listed in the left menu. Let's go review them one by one.

View Ads
There are 3 types of ads.
Surf Ads: No adfocus, you can do other tasks while the counter keeps going
Window Ads: They have adfocus, so you must see them completely. If you change tabs, the counter will be paused.
Video Ads: They have adfocus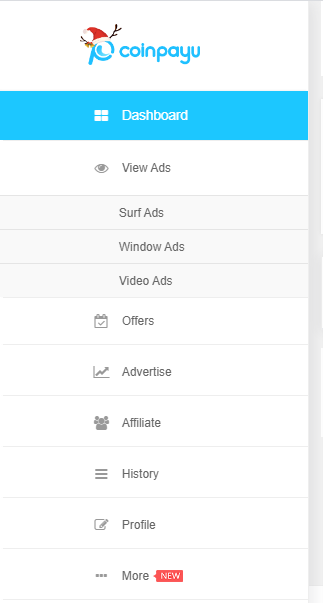 • To register in Coinpayu do it here >>>
Offers
Another way to generate profits on this platform is by performing simple online tasks on different offer walls. Each wall is independent of the others, so you can do all the tasks you want on each one. With a little patience, you can earn a lot of satoshis.
My recommendation is to do the best-paid tasks.
In my opinion, the walls where you can earn much more money are OfferToro, Wannads, and Personaly (especially with surveys).
Referrals:
Another way to earn more satoshis is with the referral system of Coinpayu. It basically consists of recommending or inviting friends to the platform so that they can earn money as well.
When your referrals earn satoshis either by seeing advertisements or by performing tasks on the offer walls, you will earn a percentage as commission for having recommended them.
To find the invitation link, go to the left menu that says "Promo Materials". You will also find banners of different sizes, so you can promote the website on your blog, forums, etc.
Referrals Market
One of the most original sections of the website is in the "Marketplace" menu, where you can sell your referrals or buy those of other users. The statistics are quite complete (day of registration, average and total profit, seller, price, etc), so you can trace good ¨buying and selling¨ strategies.
The referrals in this section are real people (not bots) who have registered on the website without a sponsor link.
What are activity points?
---
At the top of the site, you will see a section called " Points " next to the symbol of a diamond. These points are obtained automatically when you see the ads
-For every 10,000 satoshis earned by watching ads: 1 point
-For every 10,000 satoshis spent on advertising: 1 point.
-Inactivity for 7 consecutive days: -1 point.
| | | | |
| --- | --- | --- | --- |
| Points | 0-100 | 101-1000 | > 1000 |
| Instant payment | No | Yes | Yes |
| Membership Discount | No | 5% | 10% |
| Advertisement Discount | No | 5% | 10% |
Memberships
CoinPayU has four different memberships
The standard membership is the most recommended for 95% of the users. If you have a blog or a YouTube channel and have the facility to get referrals, you can try to buy the "junior partner" account and see if it is convenient for you or not.
Faucet every 60 minutes
This section has recently been added and allows you to get satoshis every 60 minutes on your faucet. Simply press a button and complete the corresponding captcha.
Catch a cat
This kind of game consists in capturing cats with some promotion codes that CoinPayU usually publishes from time to time in its social networks. To get these codes, it is important that you follow CoinPayU on Twitter, Facebook and Telegram
These codes are limited (only for the first 10,000 users), so you have to be alert to the publications that are released in their different profiles. The smallest prize is 100 satoshis (normal cat) and the largest is 1,000 satoshis (cat king).
• To register in Coinpayu do it here >>>
How to request a withdrawal of your profits
The minimum payment at CoinPayU is only 10,000 satoshis. The withdrawal process consists of the following steps:
First, you must add your wallet address in the "Profile" menu → "Bitcoin Address".
2. Go to the "Dashboard" menu → "Main Balance" and click the "Withdraw" button.
3. Enter the amount you want to withdraw.
4. You will receive a confirmation email with a code to confirm the operation.
5. In 48 hours the money will arrive
Summary and Opinion
The way to earn satoshis in Coinpayu is very simple and has a very low minimum payment compared to other sites, so we can get paid very fast.
The web has been paying since it started without any problem.
Strategy
Two basic tips
1.Use only the free membership and be active every day.
2.Make a good affiliate network on this page and any other bitcoin pages that we recommend
If you have any doubts or questions, please leave them in the comments.
Best regards.
• To register in Coinpayu do it here >>>